Program Partnerski TMefekt.pl

Program Partnerski TMefekt.pl jest programem idealnym dla osób, które poszukują najlepszych kampanii reklamowych produktów finansowych z najwyższymi stawkami. W tym programie uzyskasz możliwość reklamowania takich produktów jak konta osobiste, szybkie pożyczki, kredyty gotówkowe, kredyty hipoteczne, kredyty samochodowe, lokaty, finanse dla firm czy ubezpieczenia. Nie są to jednak jedyne produkty dostępne w ofercie tego PP. Możesz bowiem reklamować też pakiety TV czy Internetu oraz oferty energii. Sprzedaż tego typu usług zyskuje ostatnio popularność wśród najlepszych wydawców w Polsce.
W ofercie PP TMefekt.pl znajdują się 2 rodzaje kampanii:
CPS – Cost Per Sale – jeżeli np. polecisz komuś kredyt w takiej kampanii, uzyskasz procent od wartości przyznanego kredytu. Procent ten jest określony w warunkach kampanii.
CPL – Cost Per Lead – wynagrodzenie przyznawane za wykonanie przez poleconego konkretnej akcji np. wypełnienie wniosku o założenie konta osobistego.
Mówiąc o tym PP warto podkreślić szeroki wybór narzędzi, jakie dostaje do swojej dyspozycji partner: widgety, linki tekstowe, mailingi, boxy reklamowe, kalkulatory, gotowa strona z porównywarkami finansowymi.
To ostatnie narzędzie może być dla wielu partnerów rewolucją. W zasadzie dostajesz gotową stronę i Twoim zadaniem jest tylko ją promować.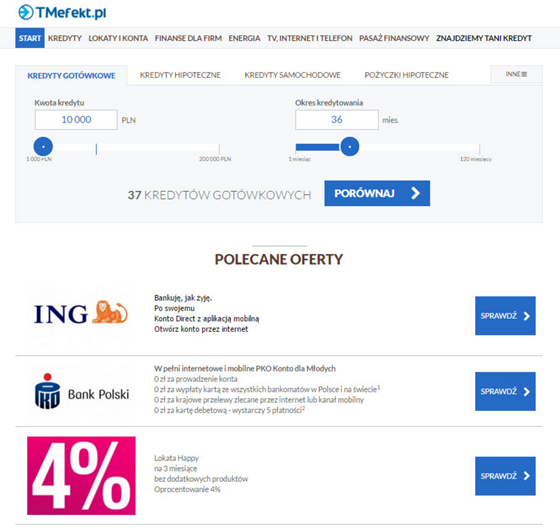 Najważniejsze zalety Programu Partnerskiego TMefekt.pl:
Podsumowując, moim zdaniem, najważniejsze zalety Programu Partnerskiego TMefekt.pl to:
szeroka oferta dostępnych kampanii reklamowych, nie tylko finansowych,
dobry support,
niskie minimum wypłaty – tylko 100 zł,
łatwy w obsłudze panel partnera z szerokimi statystykami,
niezły wybór narzędzi do promocji,
fajne konkursy dla partnerów.
Kto może zostać partnerem TMefekt.pl?
Partnerem TMefekt może zostać:
każdy pełnoletni użytkownik internetu, w tym właściciele stron WWW, for i blogów internetowych oraz baz mailingowych,
każdy, kto nie ma jeszcze swojej strony WWW, a chce rozpocząć zarabianie on-line otrzyma od nas pakiet gotowych narzędzi. Zadaniem Partnera będzie ich promowanie w mediach społecznościowych, katalogach, wyszukiwarkach.
Wypłatę z TMefekt można zrealizować na podstawie faktury lub rachunku, generowanego bezpośrednio w panelu partnera.
Rejestracja
Jeżeli szukasz pewnego programu partnerskiego z szerokim wyborem atrakcyjnych kampanii, to TMefekt może być dla Ciebie idealnym wyborem. Sam od kilku miesięcy z nimi współpracuję i jak na razie, jestem bardzo zadowolony 🙂